Contest July 2003
QTH: Hornisgrinde (JN48CO)
After our moderate results in May 2003 (48th place) we searched for a new location to see how big the influence of another QTH would be. We met on saturday morning and went to the summit of the Hornisgrinde, about 1163m a.s.l. high. The weather was fine and the station was set up very quickly. For the first time we used a mobile home to operate from. One hour before the contest started we began checking the station which was the same as in May: an Icom IC-765, LT2S Transverter, a Fischer F200 PA and two vertically stacked 11el Flexa Yagis.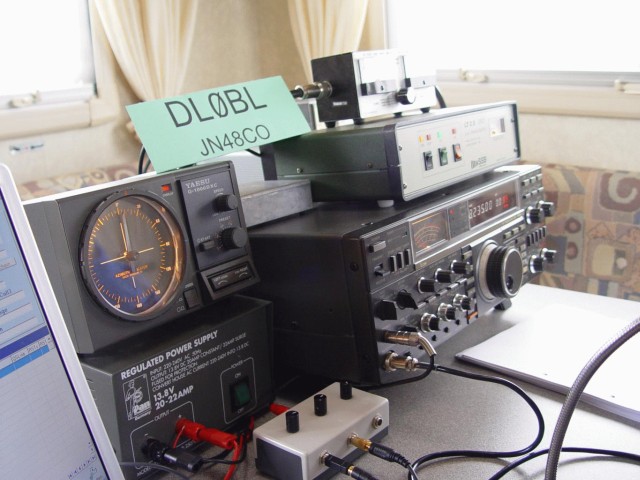 Everything worked well and we started the contest with roughly 71 QSO per hour. After one hour work the IC-765 failed and we had to use an IC-706 instead. While operating with only 100W we looked for another TRX. After one and a half hours we replaced the IC-706 with an IC-726R and increased the power to 450W again. For the rest of the contest we worked with that configuration.
While operating we realized that we had to turn the antenna very often, but only for some degrees. In many cases other stations heard our signal but we were not able to hear them without slightly turning the antenna. Obviously our antenna was too sharp. We started discussing about what to do in the next contest and already thought about antennas which have a wider horizontal angle.
The farthest contact was HA5KDQ with a distance of 806 km. We finished the contest with 604 QSOs and 172k points and achieved the 10th place. This was quite an improvement but we all agreed that we could have been better. The same day we started planning for September 2003.
Thanks a lot for the QSOs. We hope to see you on 144.225 MHz again.